Online appointments for Huisartsen 't Zuid
Huisartsen 't Zuid is a team of young and dynamic general practitioners in Ghent. With a database of more than 17500 patients and 50 to 100 appointments on a daily basis, we had to build an application that could withstand intensive use, while ensuring a smooth and userfriendly experience in a future proof solution.
The full package
We're speaking about the web infrastructure, of course ;-).
Major Tom and Huisartsen 't Zuid have been working together for nearly 10 years now. It all started with a website back in 2011, when the practice was in full expansion. Major Tom came up with the domain "huisartsgent.be" and ensured its registration. In 2014 Huisarten 't Zuid moved to a better-suited location and changed their name to what it is today. Major Tom supported this migration with an optimized online presence. To this day, the practice will be found as first result, or be rock-solidly featured on the first page of search engines for any general or specific query related to their practice or general medicine as a whole.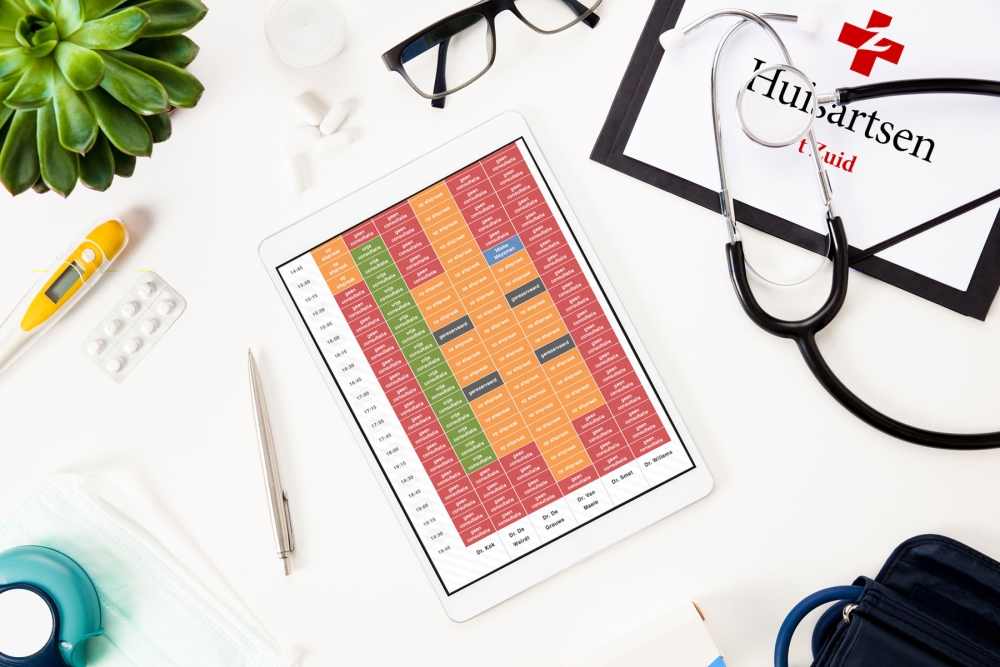 The appointment software comprises 2 main sections.
The management area enables our client to organize their team members, update their schedules, set week templates, administer exceptions, manage vacation days, etc. Using their personal interface they can keep track of daily appointments, get notified of last-minute entries, add consultations manually, and adapt empty slots on the agenda. Additionally, a special interface was programmed for practice's secretaries to optimize productivity during busy moments. While on the phone, a slot will be reserved to make sure no double bookings can occur due to online bookings. A notification system alerts users when changes are made while they're working on the system. No room for error!
The appointment section allows patients to choose the first available slot regardless of the physician, or find a slot with their preferred doctor. Each patient has access to a personal account where they can keep track of their scheduled appointments, and cancel or reschedule if necessary. Mail notifications ensure that patients are reminded of their appointment the day before their visit.
Scalable solution
Along the way, new requests arise. Major Tom programs in such a way that our software can be updated and/or upgraded at any time. Functionalities like:
a patient stop during extremely busy periods
adapted time-slots for different kinds of procedures or multiple patient sessions
recurring appointments
conditional fields in the appointment flow
...
have been integrated seamlessly along the way.
Patients and physicians alike have given us a lot of positive feedback. Our appointment system is currently being prepped to become a stand-alone product. More info following soon!